Good day of Blood Bowl in IncomGaming in Cheltenham at Auld World Masters, run this year by Thor and FatboySlimming. It's a quirky tournament where you start with 4-7 skills and then lose one per round, replacing it with a Niggle. Orcs were tier 2, so I saw a good opportunity to get them up to double figures of NAF games. There were also "sponsorships", where you chose completions, casualties or fouls and get bonus points if you achieved a certain number each round. I went for fouls so included a few goblins in my roster.
Also in the roster were the two custom stars – one halfling and one orc who played a half for each side.
First up was AngryHobbit's cool Khemri team. A deep kick and a blitz result on my kick off made life difficult for him from the beginning, and I went in 1-0, only for sweltering heat to remove a couple of my players for the second half. I found it quite tricky to get out of my half, and made a bit of a rubbish mistake which left my ball carrier in trouble. It should have ended up OK, except for a board related error where I miscounted the number of squares his player was from the endzone. Because the dark elf pitch doesn't have an endzone marked!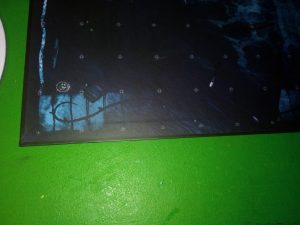 Anyway, I'm over it now. Only managed two armour breaking fouls in this game though, so my bonus points were gone before they arrived. 1-1 draw.
The orcs were angry now, and were presented with some Amazons to take it out on, courtesy of BethansDad. It was a battering, and I ended up winning 4-1.
Next up was Cornish, using Dwarves with a Deathroller and going big on Mighty Blow, though only one left by this stage. His defence was pretty solid, and it was left to the Deathroller to roll a one on a GFI to leave a gap for me to score in my turn 7. His drive stalled a little, and the lack of guard hurt, so it ended up a 2-0 win.
The halfling star, Jobo Hairyfoot, had scored in all 3 games for me now, so I had high hopes for game 4. I was pretty sure that 3-1-0 and no sponsorship bonuses were not going to be enough to win the tournament, but Star of the Car was still up for grabs, so when I faced a coach I hadn't met before using an all Linemen Norse team I was feeling pretty happy (there was a prize for "best all lineman team"). Unfortunately I played a little loose and was punished with a double both down, reroll double both down (1 in 81) which left me out of position on defence.
He rode his luck a little, though did have 5 rerolls with which to do it, so that helped! I did a classic play involving many dice rolls and chain pushing to get a one die blitz on the ball carrier, and the skull was not a huge surprise. He score in turn 6.
As I pushed for the 3 turn score, things went bad with him tagging the ball carrier and having a player in range to score. My blitzer chose this moment to double skull, and I went in 2-0 down. Sad times.
On my drive I tried to score quickly, but some solid defence meant that turn 5 was the earliest I could, and despite causing 4 casualties in ONE TURN he was still setting up with 10 players for his final drive. It was pretty tense, including a crowd surf by Jobo, but it wasn't to be and I lost 2-1. It was TheRake's 6th NAF tournament, and I would be surprised if his first shield was long in coming.
So I finished 2-1-1, and as most touchdowns was scored by the tournament winner, my 8 TDs were enough to get me the prize. Not Star of the Car though, which went to Alex (Dementor), along with best U16.
It was a good day, congrats to the Bubba double of Loki and Heartsbane taking 1 and 2, and to all the winners including Oscen who took best backstory (I came 4th… out of 4).