At the halfway point of NAFC, good time for a quick roundup of the action so far and what we can expect to see on Day 2.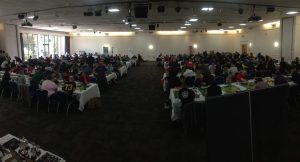 Jimany has been wielding PowerBI to good effect on the NAFC 2019 homepage, with a filterable list of races and how they are doing. We have all 26 races represented among the 190 competitors, with as ever the elf and stunty teams dominating.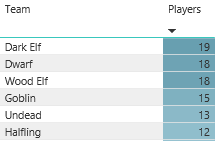 At the end of game 5 the tournament goes to a grand final, with the top 2 by Opponent Score then by Net TD + Net Cas, then a few others. It is usually the case that 5 wins are needed to get into the final, so let's see who is most in contention (noting that these are randomly sorted, as the tiebreakers are not applied until the end – it's random within those with the same score.

From the top, Lyracian has been playing forever, but not very much! Rolex (of the 250 BB teams fame, and NAF Membership Director), Panico and BadStorm are visiting from Italy, and could end up taking the trophy overseas. Badstorm was on the stream for Game 2 (search for TackleZone, can't link from this laptop!).
Kfoged has won this event a couple of times, so would probably be a good bet, but there are a few other decent players in his way – 20phoenix is a member of Team Wales, and one of the NAF Legends who have all races above 150 ranking, Stig is a member of one of the strongest leagues around (the ECBBL), and is legendary for having stunk out the venue a few years ago with his "themed" Nurgle team, and scs.sam is a multiple tournament award winner.
So will one of these guys continue the 100% record, or will they all draw this round and open the chase wide? The NAF page will have all the results throughout the day, and loads of people are tweeting with #bloodbowl so that's your best place for reportage.
NAFC always has some fun stuff going on, this year they had a team made up of all the previous refs of NAF Championships – I got represented in miniature form again, happy days! Will get a solo pic later.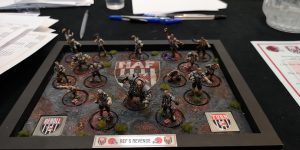 Lots more photos available at Lunchmoney's open Google album, which will no doubt include all the best painted and duel entries as well as the prize giving at the end – thanks Al!