Well, hopefully you all read my half-way review, in which I highlighted the 8 people on 3 wins, but not the person in 25th who eventually won the event, well done Jawa!
I've been to many NAFCs, and this was certainly up there in terms of enjoyment and organisation. The Friday night BB at Warhammer World, the lack of the feared queue on Saturday morning, the bizarre absence of redraws and the general good natured feel all fed into a great geekend.
Some highlights for me!
Coming second in the Duel competition (out of 2!), really thought I was going to win this year – maybe next time, if no-one enters!
Loving playing with Dark Elves, my warm up games had been pretty shocking, so it was nice to finally get the knack. Managed to stop Hawca's Woodies scoring, only to mess up my stall with a snake eyes and draw 0-0, very surprising scoreline!
Using my lovely new tournament record booklet, hopefully these will be a good archive of games sometime!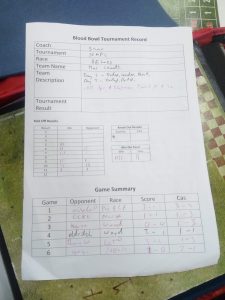 Playing ThomasW, heard lots about him as someone with a keen interest in the junior BB scene.
Watching Jip get two -2 Fame pitch invasions in a row.
Becoming a Blood Bowl figure for the 3rd time (I think…) – once by me for Bubba's mini-me tournament and then twice by actually talented painters Garrick (Team Scotland) and DarkDan (NAFC refs and organisers).
Commentating on a really interesting bit of play as part of TackleZone's amazing set up – looking forward to catching up on some of the play from the weekend.
Watching Ringbeard lose it as he plays poker with "degenerates" at 1 in the morning.
Cuddles with Ziggy!
Playing some excellent new board games, as ever. Luckily I have some birthday money to spend…
And finally, making a pledge that next year the Sann Clan will be back in force. Possibly Enderman's last chance to take the Young Blood as he will be 15 (rules?), and just a fantastic, safe, brilliant atmosphere in which to play Blood Bowl.
Hurrah!