A continuation of Alicante Part 1, unsurprisingly, in which I finished the day on 3 wins and was getting ready to face Caio from Uruguay and his Chaos Dwarves. The first day stress about finding the buses was alleviated, so everyone was a bit more chilled, and obviously the entrance to the venue was more relaxed with no queues at all. We found our opponents (5 Spanish and Caio) and cracked on.
An early removal of a bull centaur helped make this a pretty comfortable win, driving down the pitch for an eight turn score and then popping the ball loose after a drive down the flank. Claudio is a great guy trying to get the BB scene in South America going again after Covid messed with it, so if you're in that part of the world (which is pretty big, in fairness) then give him a shout. This was a second team win for us, so we were pretty much mid table after lunch, and this was our first English matchup, including Paul playing Stewbacca, pretty much his closest geographical NAF coach (except his sons).
Lunch was a Spanish omelette made on an industrial scale, which filled me up nicely (though there were plenty of other options, including Ramen and hot dogs, for those who didn't fancy the queue, the food, or were extra hungry). It was quite salty though, so I was forced (I tell you…) to indulge in a few more two euro beers.
I was up against Yantz's Amazons, who played in a slightly unconventional style, running backwards on offence and then getting behind me (which I've subsequently found out is a reasonably common tactic with fast agile teams). This was my first game against the new Amazons, so took a bit of getting used to the M7 and S4 (not on the same pieces) in this game, and then Hit and Run and Defensive later in the tournament.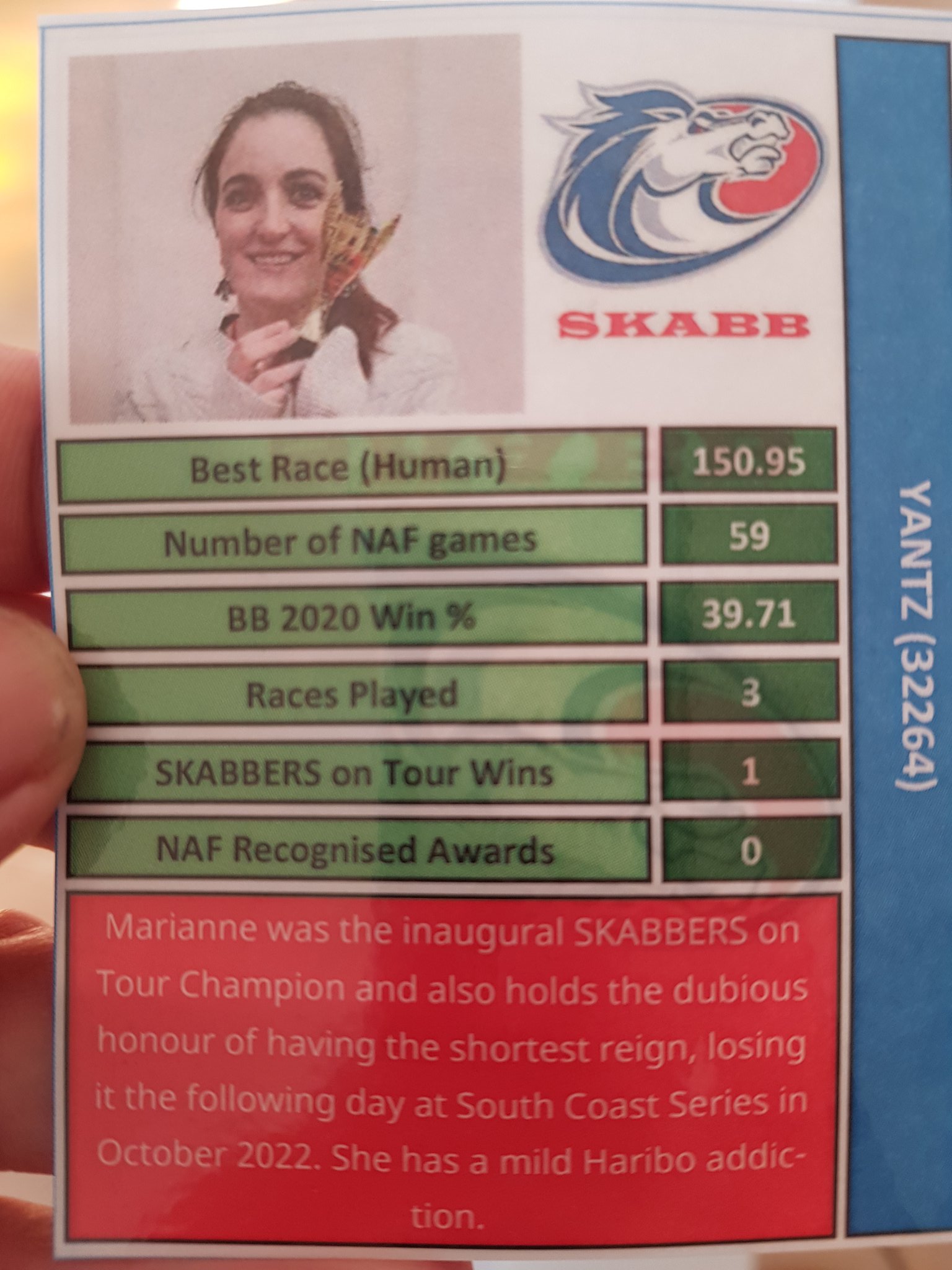 It also took time to get used to Yantz making 6-7 protected 3+ rolls each turn, and failing for the first time in turn 11 (it's bad for one's mental health to track these things, I know! There were passes, hand offs, a million dodges, pickups, all sorts of fun stuff going on, so I wasn't able to stop the score, and I hadn't hurt many players (because they hadn't been in base contact or failed dodges – did I mention that?).
At this point I was on 4 wins and keen to get best Black Orc, so I decided to push for the win and scored in 4 turns. Unfortunately, the craziness continued, and it turned into my first loss, and double unfortunately this meant we tied the round instead of getting another win! Congratz to Yantz for messing with my head and breaking my win streak – I'm glad you're a UK coach so I can get my revenge (come to Thrudball again and you will be grudged…)
We moved one table for the next round, with SKABB Scoundrels staying where they are, and played the Northern Knights from northern Madrid, and an excellent Dark Elf coach in Goldarck, who was on 500 coming in. I made a mistake early on, where a successful TTM to get a goblin into a useful assist position actually worked, so I tried to put him into position before moving a few other players. He snaked, and the rest of my team were left stranded, meaning that he had a straightforward 8 turn stall. My drive was hard, in the rain with a deep kick, and it was only saved by his third snake eyes of the game in his turn 16 before he had the chance to try a 4+ reroll dodge to blitz my ball carrier. Counted myself lucky to draw that one, and it was enough for a narrow team win.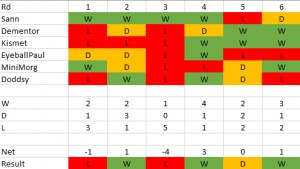 This was a good day for the team, with Kismet bouncing back from 003 to 303 and Dementor going from 012 to 222, as well as a 210 for the team. Everyone was feeling pretty tired, so we got take away pizza then most headed to bed (or so I thought…) while I popped to the Red Corner to watch England v Argentina, including explaining the rules to some mystified northern Europeans. Good fun! Came home to find Dementor and MiniMorg playing Blood Bowl, the loons. (Ed: 1-0, 11-2 win to Dementor).

Day 3 started with a presentation to Galak for his work on developing the Blood Bowl rules, and it was nice to have everyone gathered near the stage. We played against an Italian team with a German freebooter, and this was a bit of a tricky game with a clash of Blood Bowl cultures and personalities. We won, so on to the next after an excellent ham sandwich! Was laying off the beers today because flying in the evening (or so I thought…), but the social side continued, including meeting people in person for the first time after many online conversations (Christer being a highlight, along with many others).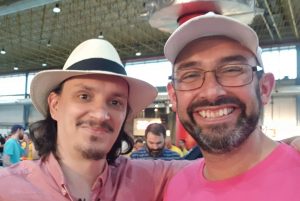 Game 8 was against a team from Mezquita Bowl, who knew how to play Blood Bowl very well! My opponent was using a more conventional Amazon team (in skill choice and play style), and ran many rings around me such that I was in serious danger of losing without making many obvious mistakes, and killing quite a few of his players! Some nonsense saved me for the draw, and another team win, putting us on table 27 for the final round against the NOF Pirates. This was better than we'd ever expected to do, so we were pretty happy all round.
Game 9 started quite late, which might have been to do with the organisers wanting to make sure everything was sorted, or to do with the software overheating – who knows? We had to be at the airport for 10, so were aware of the clock ticking, but tried to be philosophical about it as there was nothing we could do about it!
The last round was exactly as we'd have wanted to round off the world cup, with 6 games transcending a couple of language problems to be played in a fantastic spirit. I was very tired (which is why winning a World Cup is such an impressive feat!), and made an obvious mistake in taking a 3 dice blitz before getting all my players in position, and failed the 1 in 27 to allow him to score. Fortunately for me though, most of his players were dead, so I scored quickly and then set up for my last drive with 11 v 5. He defended valiantly, and it came down to a turn 16 3+ pick up to seal the win.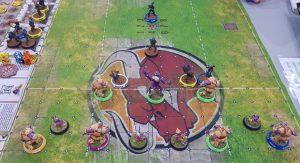 The squad side of the tournament really shone in this one as well, with the first 5 games to finish being honours even, and the 6th game in the balance as MiniMorg fought out a close one v Humans, including his opponent needing a 4+ dodge to blitz, and making it. The game and the tie were lost, but an excellently fun time was had. We sat not in order for this one, so I got to hear Paul respond brilliantly to getting one of his trees sent off by an officious ref (for the second time in the tournament!) and make life impressively difficult for his Chaos Dwarf opponent.
We finished probably around 70th (no results at the time of writing), with my results looking good for Best Black Orc and Dementor in the hunt for Best U18, though the latter was very difficult to track.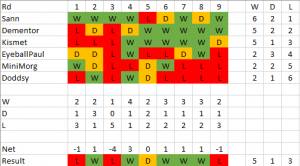 I was very pleased with my results, relying on dice a few more times than ideal, but some very solid wins as well against good opponents. I was also proud of the way the team played, both standard wise but more importantly playing the games in a good spirit. Everyone had a good time, and as we spanned 33 years in age and 550 games in NAF experience, this was pretty awesome. Thanks to my team mates for a great time!
The clock ticked on and the closing ceremony started at 9pm, with us needing to leave by 10 to get to the airport. Happily they started with best in race, in a random order, and it was great to win for Black Orcs! I have a new favourite mug, which will be coming to the next tournament that I use the big guys in. Just waiting for the NAF upload now to see if I have the world #1 race position as well. Happy days!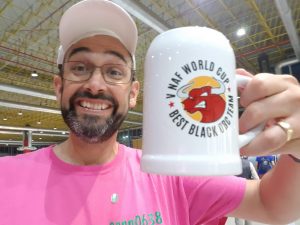 At this point the Easyjet notification came through that my flight had been cancelled, which meant we could stay for the whole ceremony. Time pressure off, just the pressure of getting home!
Next up were the painting awards, for which the standard was obviously insane, and hopefully some pictures will appear at some point, probably on that Instagram thing that I hear all the cool kids are using.
After that came best U18, which went to Mort-Junior from Poland on 612 with wood elves, an amazing result just nudging past Alex's 522. Well done to him!
The individual awards came next (which I always find a bit odd in team championships, but it's all good fun). Again, results will be forthcoming later!
The top 3 squads were all ones in the top 30 seeded squads, as expected, though Cocoripow as favourites fell at the last to come in second to the Azes (both French teams from that excellent Blood Bowl nation).
The closing ceremony then finished with Ulva proposing to Ako, who had organised the tournament together, which was a nice moment to say the least (she said yes…), and it was then time for the last buses back to central Alicante and to the AirBnB, which we luckily still had because half the squad were staying until Monday!
I managed to get a flight home Monday evening, so I'm sitting in Alicante airport writing this after a visit to the fort and some good lunch. It's been an awesome trip, and I'm now (of course) planning my next Blood Bowl tournament. Foul Bowl, anyone?