The day dawned bright, clear and cold in York as over 300 gamers convened in York University's Exhibition Centre for the expanded UK Team Challenge (not Championship, I've just found out). Pipey's flagship event is one of the stars of the UK calendar, and many of the people attending had not been to an event since the last one two years ago, or attending a tabletop event for the first time. Great stuff!
The Swindon and Wiltshire BB League (SAWBBL) team was made up of myself (Khorne), Ronalbeanio (Orcs), Bogenhafen_Bron (Black Orcs) and Barnacles (Chaos Chosen).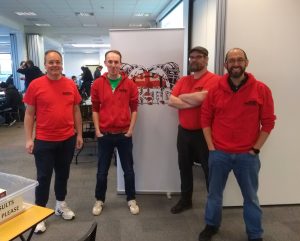 Round 1 was against CLAW, gamers from the frozen North (relative to us). I was using my Impact Siringit as proxies for "The Khorne of Africa", with a block Bloodspawn, 2 Block and 2 Guard Seekers, Extra Arms Khorngor and 2 Block linemen. 12 players, 3 rerolls, no apo.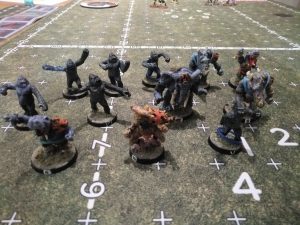 First game was against Yersinia (NAF)/PorterSorter (Twitter) and his Imperial Nobility, the nemesis of Khorne with all the Fend and Stand Firm. A spectacularly frustrating first half led to me putting my grumpy face on, with no armour breaks and a 1 in 81 turnover as I attempted to surf his Leader, one of the few players I'd be able to surf. Went in 1-0 down, but then the dice took pity on me as the rain started to come down and the kick off scattered next to the sideline. The inevitable failed pick up and scatter off the pitch delivered the ball, and I strolled in for the draw. Luckily the rest of the team won, so a solid 3.5 – 0.5 win in the first round.
This took us into the main room after the random first round (bottom tables are in a second room with a fantastic view, due to the expansion) and up against the ECBBL Blackshirts, a team from one of the UK's most competitive leagues. I was against SteAirey's Chaos Chosen, so it was always going to be a ruck.
I displeased Khorne early on by taking a both down with my Bloodspawn where we both had block instead of taking a pow, because the follow up would have taken me next to his minotaur. He showed his wrath by howling with pleasure as the minotaur's blitz sent my big guy to the dead box. Uphill struggle time!
Being on the back foot, I decided that aggression was required. A nice chain push would have opened up his cage if a beastman had been removed from the pitch, but wasn't quite to be, so instead I fully committed and trusted in the dice, leading to the mess below.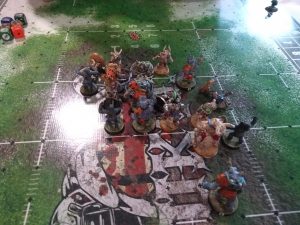 2-3 turns of really tight BB followed, including the ball popping loosed, but eventually I ran out of useful players, and with a nice hand off he was able to score in his turn 8. I attempted the frenzy one turn score, which had him worried, but a pitch invasion and only having 8 players scuppered me.
Second half started trickily, with a brilliantly placed Guard Chaos Warrior making life spectacularly difficult, but a lucky one dice pow opened up half of the pitch and I was able to equalize for the draw. One of the best games I've had in a few years, and a reminder of what an awesome game this is.
Another win for Barnacles, a tie from Ron and a loss from Bron meant a creditable team draw, and a match up against the Welsh Dragons!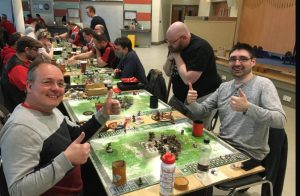 My opponent was the Welsh captain and lovely chap 20phoenix with Undead. My drive was predictably difficult, saved at the end when my Bloodspawn removed his Guard Mummy, failing regen. His team pretty much imploded in the few turns over half time, and he did well to score in his turn 4. With my Khorngor off the pitch I was relying on Linemen to score – the first pickup failed but I squeaked in for the turn 16 win.
Sadly it was the only points for the team as AndyDavo and Boneless (Hawca) snuck close wins over Barnacles and Ron and Hellboy mercilessly battered Bron 3-0.
We finished the day on 1-1-1, comfortable midtable, but most squad casualties! (I think). Excellent curry in York joined by Twelfman, Wobert and Rubick, then a fairly early night in the excellent AirBNB.
Back to the front shortly to take on the Swedish Whine Alliance! I'm off squad bottom table, and ready to rumble.
All draws, tables and so on available at https://www.bbuktc.com/drawsandresults/ – pleased that ExScore seems to be coping with the 320 entrants, even though someone did their best to break it at lunchtime, which was a bit hairy!
I'll be continuing to Tweet throughout the day, so follow along, and put the date in your diary for next year.