Semi-traditional mid tournament roundup from me, though with a twist as I spent yesterday streaming from the NAF Championship instead of playing. This was an absolute blast, and will hope to do it again soon!
The kit was provided by the Tabletop Sports Network (tSN), who were also streaming live to Twitch and will be putting the videos up on their YouTube once the dust has settled. These guys are proper tabletop streaming pros, and having a two-person production team made the whole thing an absolute dream. We had two games on the streaming tables, with Scrivo sitting next to them and giving occasional factual updates, and Rob on the production desk controlling the stream and the movable cameras, while I and a guest commentator talked about the action – absolute pleasure to be joined by Sizzler, Deeferdan and Leipziger for the 3 rounds.
We chose the games for interest, featuring some top players, international players, interesting races and famous faces from around the BB world. On Sunday as the tension builds we'll feature one of the top tables from each round, and then the Grand Final at around 3.15 BST.
So what games are we likely to see? After 3 games we are down to 19 players on 3 wins, so two of them will be in the final. This is how round 4 is looking.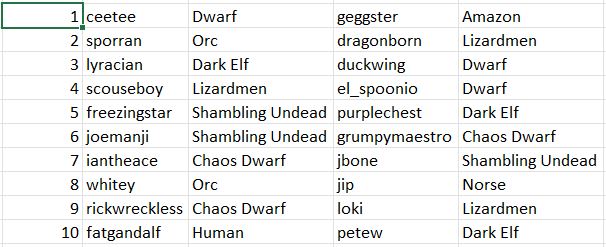 In the mix notable names include Team England players petew (current Captain), geggster and joemanji and Twitch streamers RickWreckless (on the stream for game 2 Saturday), purplechest and JBone. The South West of England is well represented by ceetee, Jip and whitey (local derby on table 8!), as well as Loki who is both from the South West and a member of Team Scotland (hence the kilt).
Sporran is also from Scotland (obviously), and along with freezingstar, iantheace, el_spoonio and Dragonborn are representing the "newer" contingent with fewer than 100 NAF games under their belts. Scouseboy and Lyracian meanwhile could be ones to watch, both previous NAF tournament winners.
GrumpyMaestro has an interesting backstory, as he's a Team Scotland member who has decided to retire from Blood Bowl and is selling off all his stuff – a NAF Championship win would be a great way to go out!
Finally an honourable mention for fatgandalf who has been rewarded for his record of two wins and a draw by being chucked in with the 100% crowd and a game against a double NAFC winner!
Hope you enjoyed the updates, it's looking like another glorious day in Nottingham, so please do join the stream, or follow along on Twitter or Facebook. There are also many photos available in this Google album (thanks Lunchmoney!).