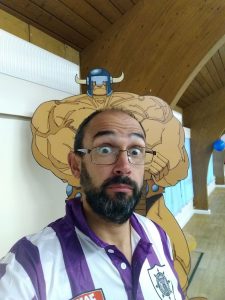 Another great weekend at Thrud, so time for some thoughts from me as roster checker/ deputy results guy/ participant. Bit of a brain dump, but hopefully interesting. Massive congratulations to Thor, Glowworm, Landrover, Nazgob, Lunchmoney, Widram and the rest of the team for a fantastic event.
Another people have other written stuff, so check them out (will add more as they appear)
The Auction
Amazing as ever, the boys spent their own money for the first time, buying in to the event by spending over the odds on fancy dice and a nice old pitch. Raised £8k from the room and online bids, in a big step up from previous years in terms of slickness of presentation. Still room for shortening the actual evening, but all in a good cause!
The Venue
Swindon Supermarine is the new home of Thrud and is literally 10 minutes drive from my house, or 50 minutes running as it's actually half way round my standard 15km running route! Excellent space, bar, camping space. Slight lack of mobile service and wifi, but something to work on for next year. We had just under 100 people, which pretty much filled the main space and the "top table" room, so not sure how much room there is to grow, but that's not necessarily a bad thing. 100 is a good size, especially including campers! The showers and facilities were also a step up from the previous venue – available 24 h and people were certainly showering at some strange times.
The Rules and Rosters
People were asked to fill in rosters on Google Sheets, which I thought would be straightforward, but the rules were too complicated for about a quarter of the people – is a skill a single or double, how much do we have to spend, and so on. Also the tech failed as when they got sent through they came through as pdfs, bizarrely. Will go with Excel in future I think, or do some testing with instructions on how to submit them. The rules were probably overly complicated I think, but maybe they should be kept the same now that more people have got the hang of them!
The Games
Game 1 I faced Stowelly's flings with Griff and Karla. Would have been scary except I managed to remove all the flings and then my wrestle ghoul (I was using Undead) managed to take down Griff. Boot to the head solved that problem.
Game 2 was Bron's Imperial Nobility – great opponent and my closest game against him as I sneaked a win.
Game 3 v Gerdleah's Necro. A new opponent for me, experienced BB2 player. Really tight game with a crazy number of necessary 3+ dodges which all came off until his critical win, which was the difference between the teams.
Game 4 was still in the top room, playing Sparky73 and his Nurgle. Great game against a super opponent, again experienced BB2 and newish to tabletop. Stand Firm spam was an absolute pain, as it's designed to be! He made the critical 3+ dodge and went in 1-0, but then it was 8v8 for the second half because of terrible KO rolls and sweltering heat. I demolished his team and scored in my turn 6 to go for the (tournament) win, and was rewarded with more bad KO rolls and a Blitz. Unfortunately I played like a muffin and nearly let one of his 5 players in to score! Got away with it and drew 1-1.
Game 5 v Gimli's Underworld was going very well until a 4+, 3+, single dice pow on a blodger, 3+ pickup, 3+ gfi, 3+ gfi meant that his gutter had the ball and I couldn't get it off him. Then in the second half the snots meant that he could pick up his cage each turn and put it somewhere else. I'm still playing back in my head whether my wrestler could have gone for the 4+ dodge into the snot cage because of titchy, but I forgot that rule for most of the half. Lost 1-0.
Game 6 was raging82 and Chaos Renegades, which would have been on YouTube if he had pressed record. He smooshed my mummies with his Claw Mino, and would have had a comfortable win if he hadn't left me a one die blitz on his ball carrier! He had to settle for an uncomfortable win instead.
The Tiebreakers
One interesting facet of the weekend was that "Tier" was used as a tiebreaker after score but before opponent score, which meant that stunties faced other stunties. I wonder if the star player threat would have manifested itself more if this had not been in place.
The Technology
Nazgob built a lovely website for the event, which contained all the info needed. Other big tournaments have done the same, with the notable exception of NAFC, but hopefully this will change soon! We used a Google Form to submit the results, which would work really well in a venue with good wifi and/or mobile signal. The results appeared as they were submitted into a Google Sheets file and could then be quickly entered into Score and checked. Results entry was super efficient and could be quickly checked back to what was submitted. No allowing for fat fingers though!
The Sevens
A bit of a personal reminder for me possibly not to play 7s next year – Friday evening good for socialising!
In Summary
See you there next year – first weekend in August!