Part of my reason for producing ExScore was that Score cannot automatically produce a score when the Tournament Organiser wants to reward a team win, so if your team of 4 achieves 3 wins and a draw, they should be awarded 3.5 points, for example.
This was the case for Eurobowl 2014, in Belgium, and the way that I suggested the organisers use was to enter all the results for a team at the same time (which is often done anyway), and use the Settings to award Team Points each round.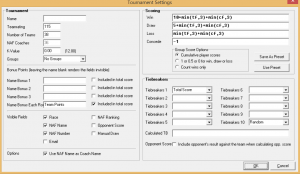 Say that you award 1 for an individual win, 0.5 for an individual draw, then 1 for an overall team win , so a team that wins 5-3 gets 6 points in total, each player on that team would gets 6000 bonus points. As an individual score is in the units or tens, it will never overcome the team score, so will only be used for the individual Swiss. The team will then have been awarded 48000 team points (e.g. 6000 x 8 players), but this does not affect the actual standings as each team's points are just multiplied by eight.
Hope that all makes sense, do comment if not!