In October 2017 I was lucky enough to represent Scotland at Eurobowl in Portugal – here's a quick summary of the Blood Bowl and social experience…
The Scottish team is a combination of the elected Captain, the top three finishers in the Scottish tournament series, and 4 of the Captain's picks. With 3 caps under my belt and a handful of tournament wins, I made the wild card selection and was given Skaven to play as I said I would use any race. After a few vaguely unsuccesful tournaments, and when our Undead player asked to switch races, I switched to Undead and managed to win Exebowl (3 game one-dayer) before heading to Portugal.
I took 4 ghouls (2 block), 2 mummies (both guard), 2 wights (MB and Tackle), 2 zombies and 2 skeletons, 3 RR, 1 FF, 1 AC, 1CL. Or at least I planned to, but I failed to count my miniatures before coming and my adorable children had taken a ghoul and a skeleton out of my miniature box! Luckily Skuld from Team Sweden came to the rescue, so my already miscellaneous team (the 2007 TFF Legacy) became even more so.
We travelled on the same flight as the Welsh, and on arrival headed to a riverside restaurant for the local speciality – the Franceshina sandwich. Amazing stuff. Accompanied of course with a bottle of port. The Holiday Inn was then available for check-in, so we headed to the bar and I walloped Loki a few times at chess – good warmup!
The food at the hotel was plentiful if a bit odd at times, which might just have been a cultural thing. The beer was good, and they were very accommodating with people drinking their own, which was excellent after we discovered a local establishment doing 5 euro bottles of port.
The draw was Friday night, and the vaguely Scottish Norwegian captain Zulu drew us to face Norway in round 1. It was great to catch up with BB players from around Europe, including the Swedish contingent who were a lot more relaxed than in 2016 when they were hosting. The socialising and drinking went on late in to the night, so I didn't feel especially fresh Saturday morning, but I'd decided not to start drinking during Round 1 so that my game did not go completely to rats (because I was playing Undead).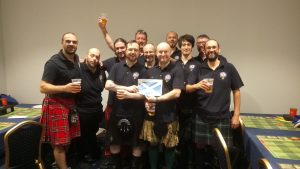 I had Endalos with Wood Elves first game, who did brilliantly last year, and when he had Fame +1 and we rolled Pitch Invasion I was a bit worried! I was really pleased with my drive though, playing sensibly in the first few turns on offence with both wights stunned, and then manoeuvring around the mummies to stop the tackle wardance doing his thing (the other was frenzy). Oh yes, and I killed his tree in one of the first few turns. That was a bonus. I scored in turn 8, and his one turn score didn't come off, so I was able to my amazing head coach model facing forward on the brilliant plinth.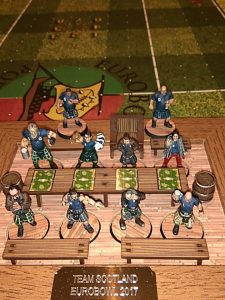 His drive was a rollercoaster start, with a short kick and blitz result (sorry Garrick, "defensive blitz"). I got a ghoul in a cage under the ball, but he dropped it and the ball came out. He recovered it, but then snake eyed on the dodge out, and after that it was game over as I was able to pick it up and again offer up no more than an uphill block on the ball carrier. I scored in turn 5 of the second half, and he got a one-turner in order to give enough turns to equalise, but I closed out the game successfully.
Games 2 and 3 were marked by a slight tactical failure on my side (with hindsight), as I allowed Norse and then Orcs (Kithor and the Hungary coach) to score against me in turn 3 or 4, hoping to score back. Both kicks to me were deep, and I didn't have enough time to score back (and in fact Kithor went 2-0 up, oops). The match against the Germans turned into a 4-0 rout as I chased the game, and I got away with a draw against Hungary after I scored in my turn 4 of the second half in order to chase the win.
Saturday night was the Captain's meeting that I attended to take minutes and because as NAF Pres I felt it was a good idea to know what was going on. The minutes will appear in time, but it was well chaired by Tripleskull on behalf of the Eurobowl committee, and some important decisions were made as regards getting a proper direction document for future Eurobowls.
Not as heavy a night in the bar after the meeting finished at 1030, but still some good chat about the BB issues of the day. A few crazies hit Porto at midnight, but that's never particularly been my style.
Sunday morning brought Pidpad's Necro, and a fistful of casualties for me (7), starting with his wolf doing a one-die block on my mummy for the attempted surf, and managing skull, reroll, skull, dead, fail regen. He also made a 4+ dodge to one-die surf my ball carrier, but with a sense of deja vu failed the block on that one too. Going into his offence at 1-0 up and only facing a sevens side was a bonus, and the game went to bad to worse for him when he was forced to foul with his ball carrier (snake eyes, naturally).
This was our first loss as a team, after two draws and a narrow win yesterdays, so we dropped down from table 3 to table 6 and faced Wales, which meant a mirror match for me against 20phoenix – the only difference being his Guard Wight instead of MB. One of the big sequence of rolls in this game was his mummy staying in the KO box for 3 kick-offs in a row, and after a bit of forward and backward I managed a 2-1 win, following (one set of) captain's orders to push for the win after a nailed-on draw. Unfortunately we got walloped as a team (5.5 – 2.5), so dropped down again to face Finland in round 6, as we did last year. We were half a point ahead of Poland in terms of hosting rights, so just needed to do better than them in round 6 to bring the Euros to Scotland in 2020.
I faced Jopotzuki's Necro, as I had last year, and was pleased with my performance after a tiring weekend, putting enough pressure on him to force a sequence of dodgy dice rolls from him. They came off, and I played for the draw on my drive, but it was really interesting because we both caused so many casualties. He rerolled a skull to a pow on my blodging ball carrier, which was slight disappointing, but again I was able to recover for the draw. Finland also had the best swag of the weekend, giving a miniature of their drunkest player from last year (BeerBeer) to each opponent. Will make an excellent Mighty Zug!
At this point I was told that Poland had scored the same in the last round, so we were mightily pleased, but then it was corrected to them getting half a point more, so we had equalised, and then we had to wait until the prizegiving for the confirmation that they had a better strength of schedule record, which was the tiebreaker, so we'll have to wait another year to win hosting rights. Unfortunately Malta will be fighting for it as well next year, and they came 6th this year, so it will be another challenge.
Many congratulations to all the winners, which included champions England, best defence from Gorgoroth, best individual JimJimany, and an amazing performance by the Scottish Europen team. I put in my best display at Eurobowl on 321, and finished 3rd in most casualties with 19, and around 40th overall out of 170. You can find the full results on the website.
All I can say now is bring on Wales next year. After finishing 2nd Scot I would be hoping to make a wildcard choice again, and will be entering the Sann Clan as a team of 3 into the Europen, which is open to all. It is going to be immense, and we will be trying our best to bring the Euros to Scotland in 2021 after the World Cup in 2019 and Poland in 2020.
Hope to see you at all of those!