After pitiful amounts of sleep over the weekend, I should be in bed, but I'm filling time as I wait for the kids to sort themselves out. 3am start on the Saturday for nice clear roads, and in time to get to York and have breakfast with my awesome German hosts – thanks very much for the sofa for Saturday night, team NRW!
A nice walk through York, and it's time to set up the streaming stuff and say hello to people before heading to the pre-drawn tables. Team ARBBL (for whom I am a cold-blooded mercenary) are in a small room off of the main one, which made for quite a cool intense game, 4 v 4, winner takes… some points. Fun opponent, who hadn't played against vamps much, so my 4 with 8 thralls and 4 rerolls (no Chaney) were able to have much Gaze fun and start the weekend with a win, despite some inevitable Pro Elf nonsense. Good to play against a well painted new GW team too!
The team win was enough to take us into the main room, and come up against team CSGB, with me facing Yogi's Ghostbuster-themed Undead team. A decent coach with a decent team, if someone had offered me a draw I'd have been happy. I managed to put some pressure on his drive, but not enough to make it count, and the only real ray of light came in my turn 8 when I killed a block ghoul and a mummy, making the second half a much rosier prospect. He was so dominant in the first half that he removed his endzone to make the pitch fit on the table more easily!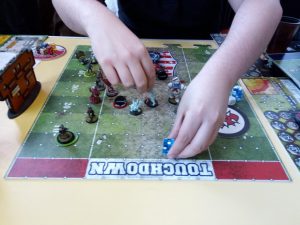 We did indeed get the draw, but a narrow team loss put us back in the smaller room, this time against the Geordie Stars, with me against Indibro's Chaos. Chaos is a pretty good matchup for vamps, and I didn't do a lot wrong, but every time the ball went loose on his drive it went to one of his players! Not ideal, and ended up losing 2-0 (I think…). Definitely a loss, anyway, but a team win put us back in the big room at the start of day 2.
But not for long, as France's Team Baguette gave us an absolute spanking…
Before that however Saturday night happened – the ref team doing an excellent job of hosting two large curries for all the foreign visitors and anyone else who fancied it – this is an excellently social tournament. We then decamped to the White Swan with a decent number of the players, and I made it a 22 hour day by the time I made it back to my sofa!
Another excellent breakfast set me up nicely for Doc Grotsnik to destroy me with his Deathroller and Dwarfs – I made my first obvious mistake of the tournament in dedicating too much firepower to knocking down his front line, meaning that I sacrificed the possibility of getting in a good position turn one. It was pretty much a struggle from then on, and ended as a 2-0 loss, as did all our games in that round, and that was the last we saw of the big room!
Next was Aberdeen's Granite City Cutters, and GoldenEye's Chaos Dwarfs – we had both played for Scotland at last year's Eurobowl, so had our own little guys cheering us on.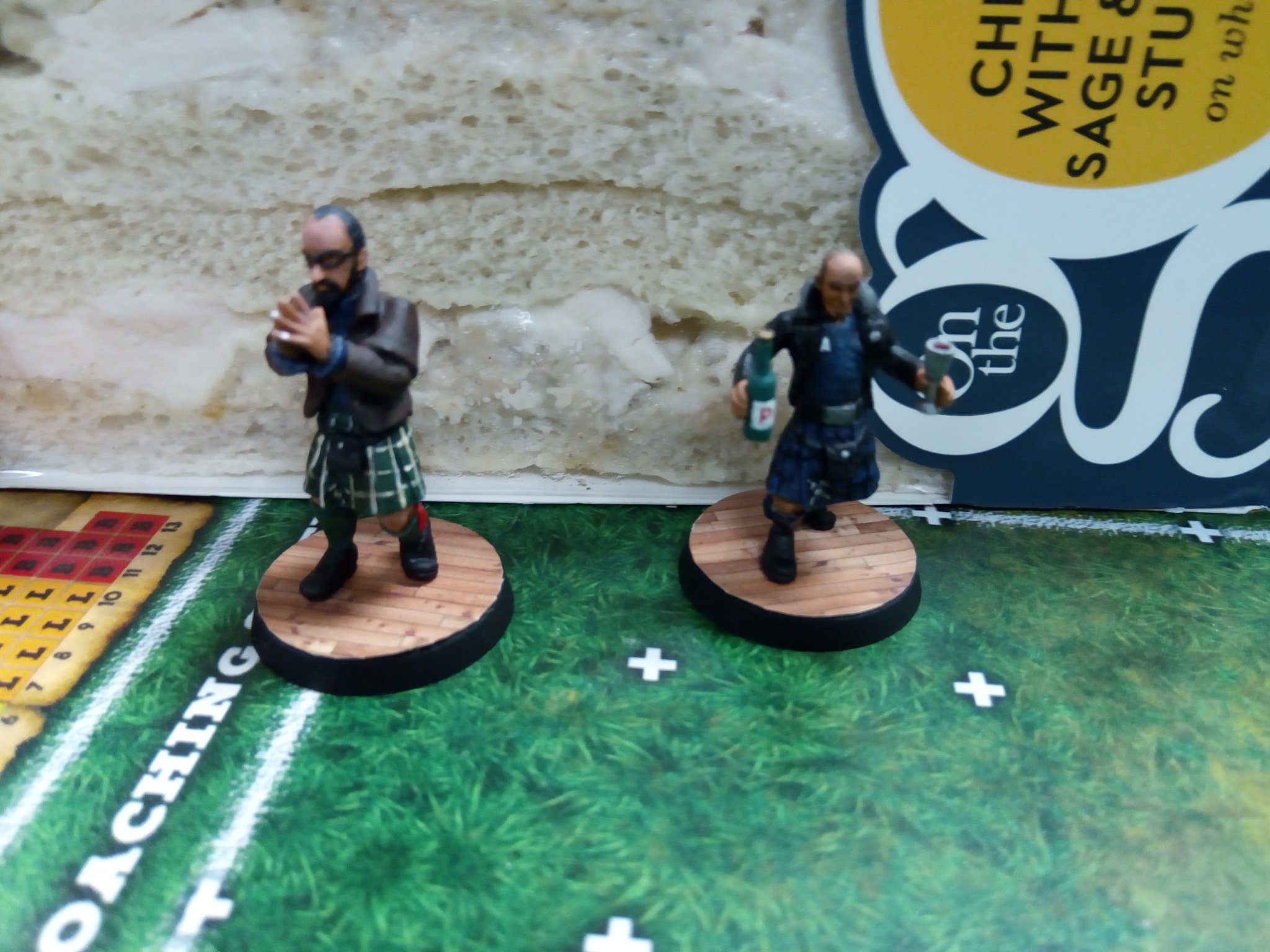 I managed to pounce immediately and knock the ball free after some funky gaze action, and after he decided to remove any sign of pows from his block dice, I was able to keep the pressure up and score in turn 7 of his drive. The second half should have been straightforward, but Nuffle punished a tactically unnecessary GFI with a gift of snake eyes, which made for a tight finish.
Last up was Ringbeard's Chaos Pact, after a significant amount of laughing at Darkson on the next table for being drawn against the only Khorne team at the tournament. I was pretty pleased with the way I played, coming within a 2+ of a strip ball blitz on his ball carrier on his drive, and then snaking a score on mine, but it ended 1-0. 12 fun turns, just a shame to finish with 4 turns of disappointment! Alex was gentlemanly as ever, and I will hope to get my revenge at Waterbowl in a month's time!
I was in charge of the raffle, raising funds for the World Cup in Dornbirn, and thanks to Hungry Troll's generous sponsorship the good people of UKTC raised around £450 for the world cup and £50 for UKTC funds, which will help to pay for goodies for next year's tournament – moving to a bigger and better venue, and including food. Hurrah!
Thanks to Pipey and Circusbear for sterling organisation work, and again to RSHD, Arioso (and Mrs A), DocMaxx and PeterD for their hospitality. Until next time…